Annual Report 2012-2013
We dream of an earth fully alive wherein all enjoy fullness of being ...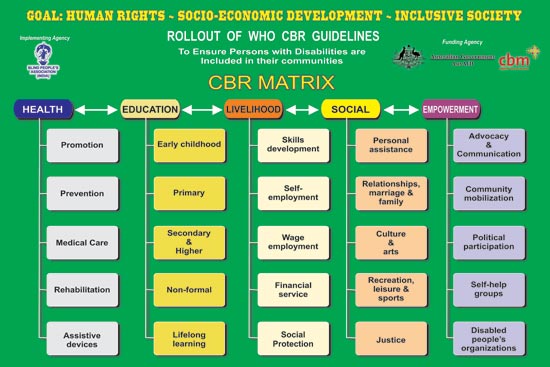 The Future Path... Make the Right Real!
From the Executive Director ...
Two significant events, towards the latter part of 2012 will determine the future of millions of persons with disability across the globe, particularly those living in vulnerable situations, in comparatively poorer countries.
The first was the signing of the Incheon Strategy by the leaders of the Asia Pacific Region in South Korea. The leaders promised that the decade(2013-2022) would focus on "Making the Right Real" for the 650 million persons with disability in the Asia Pacific Reason. The leaders agreed on 8 specific goals with indicators to monitor progress.
The second was the hosting of the first C.B.R. World Congress in Agra, India. The major area of focus during the three day Congress was discussion on W.H.O.-C.B.R. Guidelines, the summary of which forms the cover of this Report. Over 1000 delegates from over 80 countries were welcomed to India to chart out the future for the millions of persons with disability across the globe, particularly those residing in rural areas. C.B.R. is an acronym for Community Based Rehabilitation and is a strategy developed by WHO, in a totally participatory manner, to make the Convention on the Rights of Persons with Disability (CRPD) a reality. Over thirty persons from Bethany Society attended the Congress and the experience highlighted for us the way into the future.
It is gratifying to know that in many ways Bethany Society has moved from a social model of interventions to a combination of both the social and rights based approach ... but we are just at the beginning of this journey.
Thank you, especially to the whole Bethany Society team, and to all our stakeholders for supporting us in this life changing journey!