Accessible India Campaign, 2016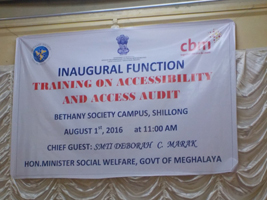 1st and 2nd August, 2016: Honourable Prime Minister, Narendra Modi, launched an initiative called Sugamya Bharat Abhiyan (also called Accessible India Campaign) on 3rd December, 2015 at Vigyan Bhawan, New Delhi which is annually being celebrated all over the world as International Day for Persons with Disabilities. The motive of Accessible India Campaign is to provide equal access to the persons with disabilities in India and is launched to fulfil the objectives of making almost 50% of the government buildings (whether in the national of state capitals) fully accessible for Persons with Disabilities.
C.B.M. India Trust, an empanelled Access Auditors under the Accessible India Campaign have been awarded the work to conduct the access audit of 23 government buildings in Shillong and other places of Meghalaya by the Department of Empowerment of Persons with Disabilities (DeP.W.D.), Ministry of Social Justice and Empowerment.
A Two day workshop on Accessibility and Access Audit was organised by the office of the Commissioner for Persons with Disabilities in collaboration with CBM India Trust on 1st and 2nd August, 2016 at Bethany Society and was inaugurated by the Hon'ble Minister I/c Social Welfare, Smt. Deborah C. Marak.
The workshop has provided an excellent opportunity for all the participants to interact and share views with the Access Auditors from C.B.M. India Trust thus helping in sensitising all key stakeholders such as government officers, professionals such as engineers/architects/real estate developers/ students and others.
The participants of the workshop conducted access audit on the 10 buildings in Shillong which have been identified under this Campaign.