Action taken by the State Government during Covid -19
March 2020: 1. As per the instruction of the Ministry of Social Justice and Empowerment, Department of Empowerment of Persons with Disabilities, Government of India on Comprehensive Disability Inclusive Guideline for protection and safety of persons with disabilities during COVID-19, the Governement of meghalaya through the office of the Commissioner for persons with Disabilities has taken the intiative to print the awareness materials in Braille both in English and local languages (Khasi & Garo).
This initiative aims to create awareness on COVID-19 to persons with Visual Impairment on COVID-19 and to inform and educate them in coping with COVID-19. These IEC materials in Braille have been distributed to institutions and NGO's dealing with persons with disabilities in the State.
2. The office of the Commissioner for Persons with Disabilities has issued instructions to all concern Deputy Commissioners, Director of Social Welfare and District Social Welfare Officers to provide assistance to persons with disabilities belonging to poor families.
3. On the 30th march, 2020 the Deputy Commissioner, East Garo Hills District, Tura had deputed the DSWO for distributing of food items to Shri. Emanuel N. Marak, supffering from Locomotor disability of Dawachipit village, Williamnagar the food items was deleivered by Shri. Bonke Marak, President of Achik Chadambe SHG Williamnagar.
4. On 3rd April, 2020, the Deputy Commissioner, East Garo Hills District, Williamnagar delivered his message to people titled "Stay At Home" which has been conveyed in sign language by Smt. Iaisahlang L. Mawlong for the benefit of persons with Hearing Impaired.
5. On 7th April, 2020, the Deputy Commissioner, East Garo Hills District, Williamnagar deputed the DSWO to deliver rice and dal for 2 persons with disabilities at upper Balsrigittim and Gonggnagre Samanda Block. For the Pwds with severe disabilities in all 3 blocks distribution will start from 8th April, 2020.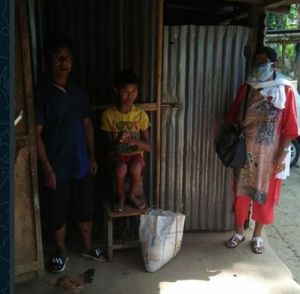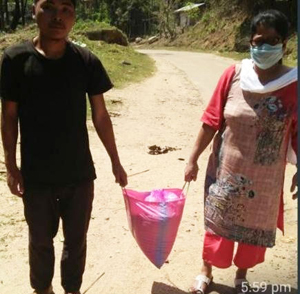 6. DSWO, West Garo Hills District, Tura making home visit with distribution of food stuff (MR Case)

7. Free ration for Persons with Disabilities without ration cards with the help of the Deputy Commissioner, West Garo Hills District, Tura.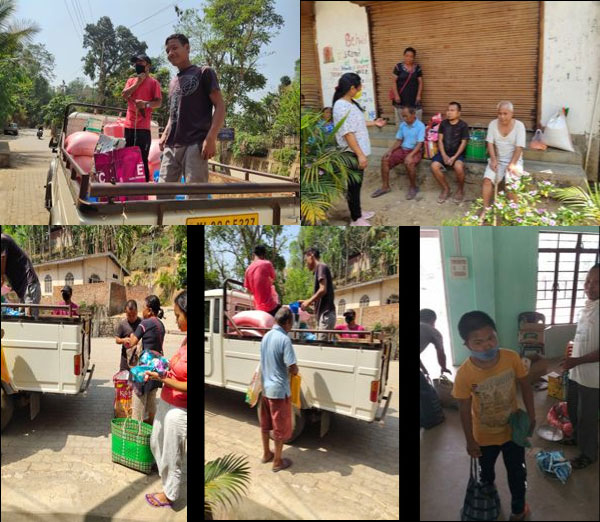 8. A curfew pass has been issued by the Deputy Commissioner, East Khasi Hills District, Shillong to vehicle No.ML05 U 0768 to the caretaker of a visually impaired person, Blind Lead Trust, Lawjynriew, Nongthymmai, Shillong.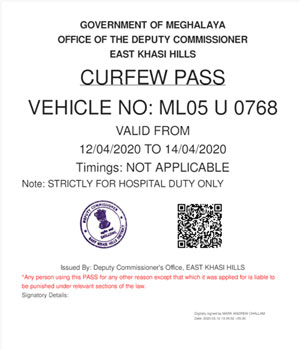 9. The office of the Commissioner for Persons with Disabilities has issued letters to all NGOs working for the welfare of persons with disabilites to provide information regarding any initiative which has been taken for assistance to persons with disabilities.
10. Members of the Montfort has contributed donation to tura Municipal Board Montfort Centre for Education, Danakgre, West Garo Hills District, Tura.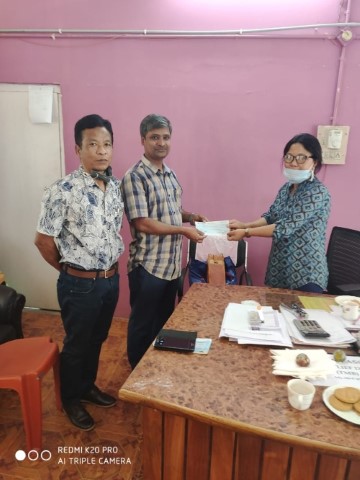 11. Response Of Bethany Society To COVID 19 (2020)
Overall strategy has been to ensure that all those connected with Bethany Society understand and follow the lockdown guidelines of the Government. The emphasis has been to stay at home and follow the social distancing and hygiene and handwashing instructions.
As far as possible staff have been requested to follow the same and connect with students through different social media networks and inform the appropriate authorities in case of emergency of any kind.
Staff and DPO members have been encouraged to support efforts at the village and locality level of the Government and other Civil Society Organisations ensuring due regard of their health.
Besides the following initiatives have been taken:
Before lockdown was announced both in the school, vocational unit and hostels all students and staff were again made aware of hygiene and also the procedure for handwashing and coughing. The same instructions were also made available in sign language.
For the deaf community video on COVID 19, awareness and action to be taken was circulated among all the different groups and NGO network across the state including the DPOs.
When lockdown was announced wef April 16,2020 by the Government, immediate action was taken to ensure safe travel of 120 hostelites to their respective villages and emergency helpline number of wardens and teachers were given to families.
Arrangements were made for those staff and students in Shillong and Tura who could not reach their villages to continue to stay in the hostels and supply of food and other essentials has been made available till date.
Immediate appeal was made through the office of the Commisioner of persons with disabilities, Government of Meghalaya, to release the pension till March 31, 2020 to all registered clients and also to explore ways to increase the pension. It was also requested that the District Administration ensure that all persons with disabilities and their families in remote areas have access to basic amenities in terms of food and medication.
Network of NGOs and DPOs have been mobilized at the District Level to immediately inform the appropriate authorities if any person with disability or families are facing any crisis. Request has also been made to inform the Office of the Commissioner for Persons with disabilities of any such emergency situation.
Field Workers have been in touch with clients needing medication, especially those who have mental illness and connecting them to civil hospital in Jowai and Tura.
Those who are going to school are being followed up by teachers through Whatsapp and SMS for monitoring academic work.
JyotiSroat School have opened a helpline to support parents of children who are having problems with children regarding behavior challenges for counselling.
Through the Skill Development Centre, Shillong arrangements are being made to stitch masks in large numbers in collaboration with the District Medical Authorities.
Action taken by the Office of the Commissioner for Persons with Disabilities during Covid 19
Sl. No.

Matters
Action taken
1
Assistance to persons with disabilities who belong to poor families during COVID 19

A letter has been issued to DSWO's and DC's to provide assistance to persons with disabilities who belong to poor families vide letter
1   No.CPWD/COVID/-19/I/2020/20
Dt.6-04-2020 (DC, West Garo Hills, Tura)
and vide letter No.CPWD/COVID/-19/I/2020/20-A Dt.6-04-2020(DSWO, West Garo Hills, Tura)

2. No.CPWD/COVID/-19/I/2020/21
Dt.6-04-2020 (DC, East Garo Hills, Williamnagar) and vide letter
No.CPWD/COVID/-19/I/2020/21-A Dt.6-04-2020 (DSWO, East Garo Hills, Williamnagar)

3.  No.CPWD/COVID/-19/I/2020/22 Dt.6-04-2020 (DC, North Garo Hills, Resubelpara) and vide letter No.CPWD/COVID/-19/I/2020/22-A Dt.6-04-2020
(DSWO, North Garo Hills, Resubelpara)

4. No.CPWD/COVID/-19/I/2020/23 Dt.6-04-2020 (DC, South Garo Hills, Baghmara) and vide letter No.CPWD/COVID/-19/I/2020/23-A Dt.6-04-2020 (DSWO, South Garo Hills, Baghmara)

5. No.CPWD/COVID/-19/I/2020/24 Dt.6-04-2020 (DC, South West Garo Hills, Baghmara) and vide letter No.CPWD/COVID/-19/I/2020/24-A
Dt.6-04-2020 (DSWO, South West Garo Hills, Baghmara)

2
Initiative for assistance to persons with disabilities during COVID19
A Letter has been issued to NGO's to provide assistance to persons with disabilities during COVID 19 vide letter No.CPWD/COVID/-19/I/2020/25 Dt.7-04-2020
3
Seeking permission to distribute Survival commodities and protective measures to the persons with disabilities in the villages.
A letter has been issued to the Deputy Commissioner, Ri-Bhoi District, Nongpoh vide letter No. CPWD/COVID/-19/I/2020/27 Dt.8-04-2020