Special centre to treat hearing impaired inaugurated in city, Shillong
12th July 2016: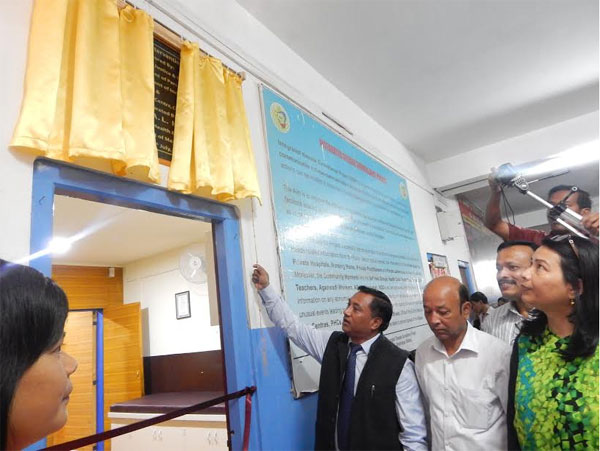 The Early Diagnostic and Intervention Centre (E.D.I.C.) attached to the E.N.T. Department for the assessment of hearing handicapped at Shillong Civil Hospital was inaugurated by A.L. Hek, Minister for Health and Family Welfare at State Resource Centre, Shillong Civil Hospital today.
Besides E.D.I.C., Shillong Centre, E.D.I.Cs were also set up in West Khasi Hills, West Jaintia Hills and West Garo Hills Districts. All these four centres are attached to their respective Civil Hospitals. The E.D.I.C. were sponsored jointly by the Ministry of Social Justice & Empowerment, Department of Empowerment of Persons with Disabilities, Government of India and State Society for the Implementation of Rehabilitation Services for Persons with Disabilities (S.S.I.R.P.D.), State Resource Centre, Civil Hospital Shillong.
Speaking on the occasion, Commissioner for Persons with Disabilities, C. Kharkongor said children with hearing impairment face various kinds of problems and added that the centre would be of great help to them. "The parents are urged to come to these centres and have a medical checkup of their wards for free if they suspect their child to have hearing impairment," Kharkongor said.
Hek said that the aim of these centers is to facilitate early detection of disabilities in children and treat them before they become major health problem for such children. Opining that hearing loss is one of the most common congenital anomaly in early age, Hek said that early detection of such anomaly in children is critical for the development of age appropriate speech, language and learning skills.
The Minister also appealed the citizens to take advantage of the free treatments available for patients with disabilities and BPL background in these centres.